The Bolsover School Donates £450 to Chesterfield Royal Hospital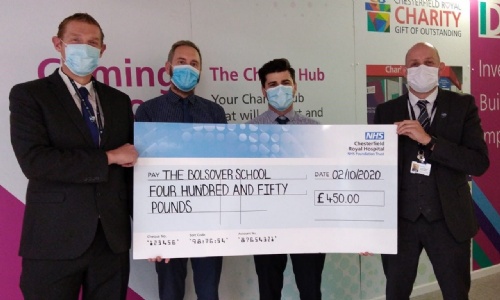 With the help of the generous parents of the school and the local community, The Bolsover School has raised £450 for Chesterfield Royal Hospital linked to their Lockdown song, Day After Day.
After the song's success, Mr Stacey decided that it could be used to help raise much needed funds for the hospital, in support of the hard work they have been continuing to do throughout the Coronavirus pandemic.
The self-composed original song was created and produced by Mr Stacey, Mr Robinson, Mr Bacon and Mr Drury, while the students penned all of the lyrics around their time at home during Lockdown. The track was recorded in staff members' own homes, with Mr Drury creating a music video to accompany the song. Staff members of The Bolsover School can be seen singing along to the song toward the end of the video.
The music video reached over 63,000 people on Facebook and has had over 2,000 views on YouTube, with Mr Stacey also featuring on Elastic FM, Peak FM, BBC Radio Sheffield, BBC Radio Derby and Trust AM to talk about the song, the school and the fundraising efforts in support of the hospital.
Mr Stacey says "We are incredibly proud to support the Chesterfield Royal charity hub and would like to take this opportunity to thank them for the work they do in our community. Day After Day was a collaborative project between myself and 3 other members of staff at the school and whilst it was lots of fun to put together and has received lots of praise, we are very pleased to have been able to use the track to support the work being done by the Chesterfield Royal Hospital".
You can still donate here: www.justgiving.com/crowdfunding/dayafterday