Mass COVID-19 Testing at The Bolsover School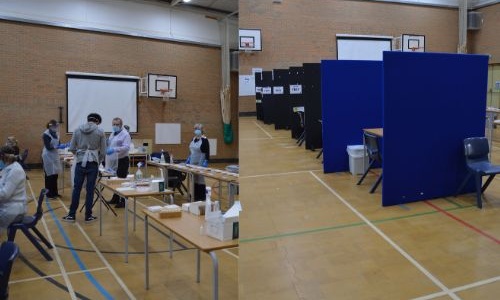 On Monday 8th March, the day finally arrived when our students began a phased return to school.
Starting with our Year 11 students bright and early on the Monday morning, all those students who had given their consent were tested in our now established Testing Centre. They then returned to school the subsequent day, following receipt of a negative Covid test. This process was repeated with each year group, resulting in all students returning to The Bolsover School and to face to face learning by Thursday of the same week.
Our Head Boy and Head Girl have also been through the testing process.
"I was honestly shocked with the Covid testing as I didn't think I would be able to do it. However, it is the simplest thing ever – fast and painless." Abby, Head Girl.
"My experience with the Covid tests has been quick, easy and trouble-free. Just a simple routine." Reuben, Head Boy.
The testing has continued, with the aim of having as many students as possible tested three times prior to the transition to home testing. This Home Testing Opt-In Scheme will mean that our students can now participate in Lateral Flow testing at home. Kits will be distributed to those students who have opted into the scheme on Friday – 19th March, 2021.
IF YOU HAVEN'T YET OPTED INTO THE HOME TESTING PROCESS – PLEASE EMAIL covidresults@bolsover.derbyshire.sch.uk AS SOON AS POSSIBLE. OPTING IN IS ESSENTIAL IF YOU WISH TO RECEIVE A HOME KIT.