Space, Engineering and Science Talk from the University of Nottingham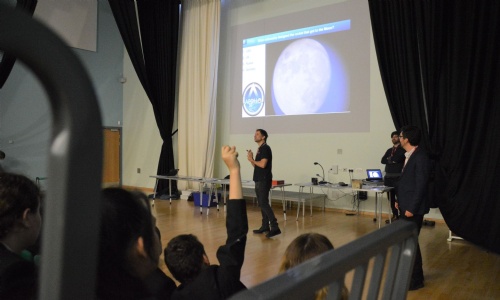 Here at the Bolsover School we like students to experience the wider world, and learn about the amazing opportunities which are available to them, and hopefully, this event may have inspired the astronauts, scientists and engineers of the future.
Huge thankyou to Jez Turner, Tom Westby and Daniel Robinson from the University of Nottingham, who came in to school on the 10th November to share their passion and enthusiasm for space, engineering and science with our Year 8 students. The session aimed to promote the amazing discipline of engineering and raise our students' aspirations. Jez and his team want to encourage students to consider university as an educational pathway, and they are keen to highlight the foundation programme at the university which includes modules in Maths, computer methods, electricity and magnetism, mechanics, physics and lab skills. The foundation course leads on to Aerospace, Civil, Chemical, Manufacturing and Electrical Engineering and also Architecture and the Built Environment. Our Year 8 students were shown clips of the first person to walk on the moon in 1969, they could see Neil Armstrong landing on the moon, and they learnt how this was made possible.