World Book Day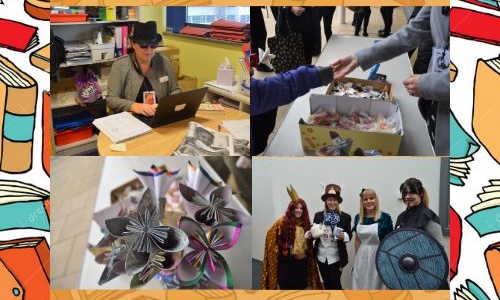 For World Book Day, our students have been taking part in lots of fun activities and challenges!
In form time, there has been the "Look Who's Reading" challenge where each form to guess the 26 members of staff who are hiding their faces while reading, and the 'Guess the Book Title' where our Librarian has pixilated popular book covers for our students to guess. At lunch time, there have been stalls in the courtyard selling gifts, sweets and tasty treats to raise money for our school library. The 'Title Quest Competition' involves students going round with an entry form where they write down the names of the staff against the book title of the card each member of staff is wearing, whilst also finding out the author of each book. There has also been a plethora of activities in the Library throughout the day, including word searches and quizzes.
Our staff members have been getting involved in the fun too! They have dressed up as their favourite literary characters and as individual words – you can try and spot Miss Fox as Incognito!
The Bolsover School is also launching the Readathon – a sponsored reading event! Make sure you find Miss King for the sponsorship cards.