Science Week 2022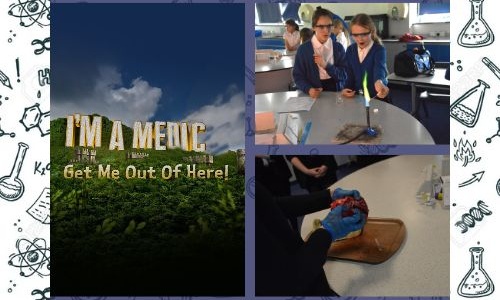 This week has been Science Week 2022 and the Science department has hosted a range of activities to get our students involved in.
Some lucky students in year 8 had the opportunity to put their questions to real-life medical professionals through "I'm a Medic, Get Me Out of Here!". The students asked some great questions and were very excited to receive responses! One student said, "Doctors are always so busy and you don't always get to ask them the questions you really want to, so this was great!"
We invited the local primary schools to take part in a Who Dunnit Investigation! The students carried out a series of investigations to work out who had murdered Mr Robinson. They used microscopes, chromatography, ion tests, fingerprint analysis and blood splatter analysis to work out who committed the crime!
There have also been practical lessons based around this year's theme of "growth" and multiple form time competitions, as well as being able to watch Miss Glossop dissect heart and lung during lunch.
Our students have also been able to taste test Space food with Miss Crossland – what an experience!