The Bolsover School celebrates GCSEs 2023!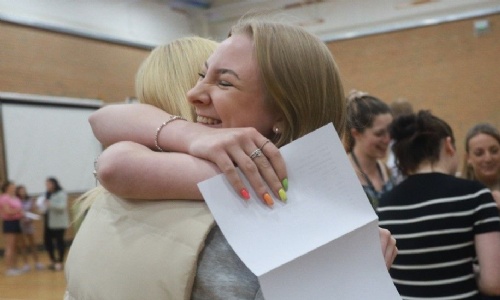 The atmosphere at The Bolsover School has been sublime today as students and their families have flooded to the sports hall to end months of suspense by finally opening their GCSE results. This year's cohort has overcome so much to be here today, with years of disruption throughout the pandemic and further curriculum changes, but they've made it and achieved excellence nonetheless.
They have achieved phenomenally! 63.3% of our students this year have achieved a pass or higher in their English and Maths exams, with a further 44.0% attaining a grade 5 to 9, and a spectacular 53 grade 9s across our graduates. These are remarkable achievements for our students and staff. We are immensely proud as a school and as part of Redhill Academy Trust.
Headteacher Matthew Hall said: "Once again our students have made us incredibly proud, with many students achieving incredible results. This year group have endured a very difficult time over the past five years and their resilience should be celebrated."
Among our graduating Year 11s is Edith C who has achieved a staggering 5 grade 9s, 4 grade 8s, and 2 grade 7s this year, including a grade 9 in Chinese! This is a phenomenal outcome and goes to show just how hard Edith has worked to be Nothing but the best. Edith is going on to St Mary's 6th Form to study Maths, Further Maths, Chemistry, and Physics in September. Edith is very happy with her results, and although she's not sure what she wants to do yet we're sure she'll go far.
She's just the beginning: some of our other noteworthy students this year include our head prefects, Georgia and Grace. Georgia has achieved 8 grade 9s, 1 grade 8, and 1 grade 7, while Grace has achieved 5 grade 9s, 4 grade 8s, and 1 grade 7. Both are going on to 6th form to follow their aspirations, which include becoming a research scientist or German translator, and a lecturer or publisher respectively. Well done Georgia and Grace! Our student leadership team's success doesn't stop there; Jacob M, one of our prefects for Nightingale House, achieved an incredible set of grades including 2 grade 9s, 5 grade 8s, 2 grade 7s, and 1 grade 6 which he's used to secure a place at St Mary's studying Maths, Biology, Geography, and Physics.
It's not just 6th form in the future for our students: Emily W has passed all of her GCSEs this year and is ecstatic with her results. She's going on to White Rose College to study Media Hair and Makeup with the hopes of one day being a makeup artist in the film and TV industry! Beth D is going to college to study Musical Theatre Performance, and after her stunning performance in our school musical Popstars this year, we know she'll excel.
Across the year group, students have gotten grades to be proud of. Their hard work is truly going to take them far as they embark on the next steps of their education journeys.
Mr Hall added that "We wish all our leavers the very best for the future, and truly hope they go on to achieve their potential!"