Core Values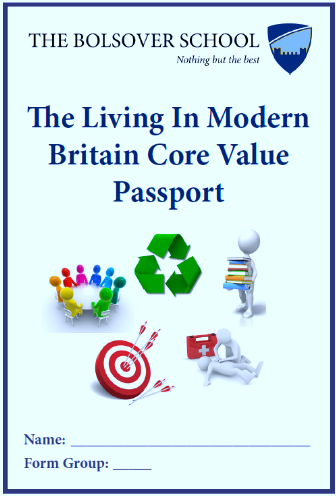 The Bolsover School Core Values are our way of enriching our pupils' curriculum. It is their opportunity to broaden their horizons, commit to improving their community and make the most of their time inside and outside of lessons. They are challenges which begin when they start in Year 7, and run all the way through to the end of Year 11.
The core values are:
To participate in a residential or careers/curriculum based visits to enrich your education. A residential visit is any trip that includes an overnight stay, or it can be 3 trips that take you out of school for a full day. It can be any of the various trips to universities or workplaces, theatres, science or careers trips we run in school!
To organise individually or as a team member a charity fund raising activity. This could be a cake sale, a sporting challenge or simply going around various forms trying to sell items or competitions for charity. It could even include fundraising for the Y11 prom, but you must be making a significant contribution to the running of the event.
To represent your house in at least 10 disciplines. These could be taking part sports day, inter-house challenges at lunchtime or the inter house Olympics. It doesn't have to be a sporting event, it could be entering a poster competition, taking part in a science or chess competition. It could be anything where you in competition with the other houses where house points would be awarded for the winner.
To make a significant contribution to an arts event within the school or receive a subject award at presentation evening. You don't have to be a performer, a dancer or singer; you could be working on the sound, the lights, being the costume designer, ticket sales or even marketing. It could be when you join in the Christmas carol concert for one year. Or, if you are consistently working hard in a particular subject, you could receive the subject award at presentation evening!
To represent the school in competition more than one occasion. This one speaks for itself, it could be playing football, rugby, netball or athletics against pupils from other schools. It doesn't even have to be sporting, any STEM/MfL/English challenges count too. As long as you are representing our school.
To participate in a curriculum plus activity and/or secure a recognised community award. Do you do something in the community above and beyond the usual? Have you achieved a music award at the weekend or completed your Duke of Edinburgh Award? This can be any significant recognised award achieved in your own time outside of school. Alternatively, have you been attending regularly your curriculum+ activity for a whole school year? That level of dedication counts too!
To secure and maintain a school position of responsibility. Do you represent your form on the school council? Are you a school librarian? Mental Health Ambassador? Do you participate in the Arts Council? Do you collect the form wallet for your form? Have you shown the dedication/commitment to help improve your school? Keep it up for a whole school year and that'll count to your core values.
To undertake 3 public speaking events or assemblies. Have you braved speaking outside of the classroom environment? Have you spoke to your year group or house in an assembly? Have you spoke at an open evening? As part of the Young Voice? Or have you spoke to group of people from another school? Undertake 3 separate speaking events to achieve this invaluable core value.
To lead an effective school based enterprise venture, or achieve aspects of the Gatsby Careers Benchmarks. This can be identical to core value 3, but you need to be the leader of the project. Did you make the big decisions? Decide the strategy, organised collections, assigned roles? You make the decisions, you lead the way!
Individual target. This can be up to you! Only make it measurable and achievable before the end of Y11. Think about what you'd want to improve in yourself or what you'd like to achieve!
Some examples might be:
To achieve 98% attendance over a school year.
To achieve a gold achievement award
To assist at 6 parents/open evenings
To earn a particular music qualification.
Complete both the bronze and silver Duke of Edinburgh Award.